Commerical Vehicle Recovery
Heysham Trucks are specialists in commercial vehicle recovery, our custom DAF recovery vehicle is capable of carrying fully ladened Artics and we cover most of Lancashire. We are experts in Motorway recovery.
What classes as an HGV?
HGVs are otherwise known as Heavy Goods Vehicle, typically weighing upwards from 3 & a half tonnes. They are used for things like towing and delivering goods. The advantage to a HGV is they can carry a very large amount of goods, therefore enabling a quicker transportation. They also are essential to help retrieve broken down vehicles. Due to the size and weight of HGVs, they need a specific recovery vehicle to be able to help them if they ever break down.
HGV recovery
These recovery vehicles are used when HGVs break down or even if they just get stuck somewhere and need some help to get out. These vehicles can also be referred to as breakdown recovery. A basic description is; a vehicle which is constructed or adapted for any one or more of the purposes of lifting, towing and transporting a disabled vehicle. They typically take the broken down vehicle to a scrap site or to a garage to be repaired, depending on the extent of the damage.
Recovery vehicles have specific restrictions as to what they can recover like weight limit. Each towing vehicle has its own weight limit to follow and this is to help prevent road damage, improve road safety and protect the environment. You will find the weight limit for each vehicle on a plate on the side. Other restrictions include securing the load safely and ensuring you have the correct licence to drive the vehicle.
Right is a picture of our HGV recovery vehicle recovering a petrol tank.
We understand it can be unnerving to break down in any circumstance, but being in a bigger vehicle on a busy road, its important to notice the possible dangers of this and act quickly and efficiently to ensure both the driver and people who pass are safe, along with anything the vehicle may be transporting. With 24 hour recovery available, we are only a call away from helping with anything you may require.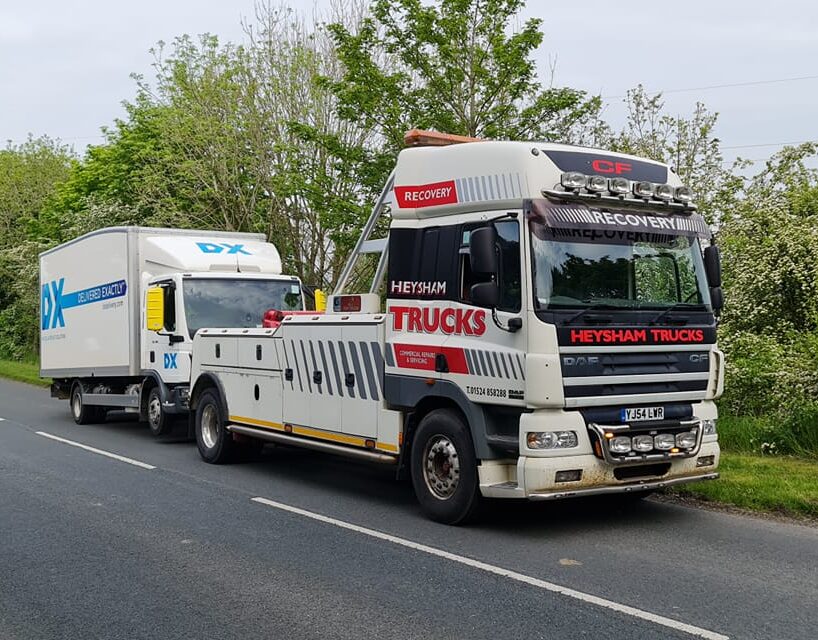 Call Us Today
Heysham Trucks can help with most aspects of Commerical vehicles, recovery, repair and even hire. Give us a call today to find out how we can help you.
01524 858 288